Awards
Awards Guidelines It's that time of year when club members should start thinking about awards. Below are links to NMGC, SCR and NGC guidelines.
---
South Central Region Awards Information from Awards Chairman, Sue Ferguson
There are several exciting new SCR awards:
Award #8 Water Conservation
Award #9 Landscape Design
Award #12 Floral Design Program
Award #15 Container Gardening
Entry applications may not exceed three pages, using front of paper only. Electronic submissions are accepted. Adult SCR award entries are judged first in each state, so all applications should be sent to Sue by January 15, 2018 so she can arrange for judging and subsequent submission to SCR by February 1.
Awards Nos. 17 - 21 are Youth Contests. Please read the directions carefully as the deadlines, and where to send the applications, vary.
---
About the Rose Award
---
Click on the links below to view the 2016 award recipients, honored during the NMGC and NGC 2017 annual conventions.
---
NMGC's Awards Program provides an opportunity for clubs and individual members to share their garden and garden-related talents and accomplishments. These programs are aimed at supporting the overall mission of National Garden Clubs, Inc., which is to promote "the love of gardening, floral design, and civic and environmental responsibility."
Summit Garden Club Awarded AMES Tools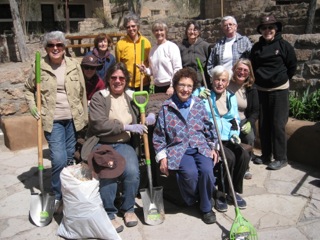 Click here to read Summit's involvement, and click here to learn more about NGC's partnership with The AMES Companies, Inc. and the application process.

Cormorants Resting at the Bosque del Apache Wildlife Refuge, Dan Monaghan, Photographer. Photo courtesy of New Mexico Dept. of Tourism.
Click on photo to enlarge.
Top, Photography and Design Awards for January 1, 2016 - December 31, 2016
Presented at NMGC, Inc. Annual Convention 2017
---
Top NMGC, Inc. Awards
&nbsp
Member of the Year
Jo Ann Layden

Design of the Year
Down the Ant Hole
Juanita Ortega

&nbsp
Mentor of the Year
Beulah Oyler

&nbsp
Silver Medallion Winner
Becky Fuller

&nbsp
Horticulturist of the Year
Howard Dash
---
Photographic Print of the Year

The Dazzling Ruby Damsefly
Selvi Viswanathan
Los Alamos Garden Club

Beginning Designer

First Place
Mary Noskin
High Desert Design Club, Albuquerque
---
Photographic Print: Bees
First Place
Page Steed
Angel Fire Garden Club

Second Place
Hui-chien (Bill) Shen
Valley Gardeners, Albuquerque

Third Place
Selvi Viswanathan
Los Alamos Garden Club

Honorable Mention
Johnese Turri
Angel Fire Garden Club
---
Photographic Print: Bird
First Place
Goose Train
Page Steed
Angel Fire Garden Club

Second Place
Rufus Hummingbird
Selvi Viswanathan
Los Alamos Garden Club

Third Place
Lowly Starling with Striking Plumage
Christine Longthorp
Uptown Garden Club, Albuquerque
---
Photographic Print: Butterfly
First Place
Two Tailed Swallowtail
Selvi Viswanathan
Los Alamos Garden Club

Second Place
Polygonia faunus-Green Comma Butterfly
Page Steed
Angel Fire Garden Club

Third Place
Butterfly and Lobelia
June Gandert
Uptown Garden Club, Albuquerque
---
Photographic Print: Horticulture Speciman
First Place
Glorious Lilies
Kristin Thompson
High Desert Design, Albuquerque


Second Place
Ring of Fire
Juanita Ortega
Floral Designers, Santa Fe


Third Place
Ponderosa Pine with Hoar Frost
Page Steed
Angel Fire Garden Club
;
---
Photographic Print: Insect
First Place
The Dazzling Ruby Damesfly
Selvi Viswanathan
Los Alamos Garden Club

Second Place
Western Honey Bee
Page Steed
Angel Fire Garden Club

Third Place
Orb Spider
Dianna Doddridge
Upton Garden Club, Albuquerque
---
Photographic Print: Landscape Scene
First Place
The Beauty of Mother Nature Starting
over - Rio Grande Bosque
Michael Turri
Angel Fire Garden Club

Second Place
Ocate Pass, New Mexico
Page Steed
Angel Fire Garden Club

Third Place
Jemez Mountains from State Road 502
Juanita Ortega
Floral Designers, Santa Fe
---
Photographic Print: Wildlife
First Place
Lovable Bobcat at My Pond
Selvi Viswanathan
Los Alamos Garden Club

Second Place
Close Encounters of the Bison Kind
Page Steed
Angel Fire Garden Club

Third Place
Alligator in the Grass
Terry Miller
Uptown Garden Club, Albuquerque
---